Here is our list of the top 10 ramen restaurants in London for 2022. We've covered 9 and we'll be heading to Cocoro soon to round off this list. Who is going to take the number 1 spot for the Best Ramen in London? If you want to skip to our most recommended ramen restaurants, feel free to scroll down to the last paragraph.
Please note we are writing these reviews in the order of restaurants we visit. Also while this was originally a top ten list, we will add in more ramen shops as we go.
Cocoro
1) Kanada-ya Ramen (Often a favourite for the best ramen in London)
Where can you eat the best Ramen in London? Well there are many who would say Kanada-ya wins this title and it certainly makes the list for the Top 10 Japanese restaurants in town. It specialises in Tonkotsu ramen and combinations of pork and corn-fed chicken broths along with a truffle ramen! There is also a vegetarian ramen option with a broth made of Shiitake mushroom and porcini-soya milk.
On my visit, I was equally impressed with the excellent presentation of the toppings and the distinctive aroma rising from the bowl. The Tonkotsu ramen comes with generous but not overbearing slices of Chashu (braised pork belly), chopped spring onions and Kikurage (wood ear) mushrooms.
So how was the broth? Kanada-ya simmers the pork bones for 18 hours to produce a unique rich and flavourful broth. For me this broth has the depth to give it that authentic Tonkotsu taste and the kata-men noodles were also on point. They make them on-site using a specific type of wheat flour, and have just the right amount of texture to perfectly complement the broth. It says a lot when you can finish the whole bowl of broth and still want more and that was exactly my experience. Without a doubt, I rate Kanada-ya Ramen as the best Tonkotsu Ramen in London.
You can find the full review here.
2) Heddon Yokocho
Heddon Yokocho is technically located in a side street in Mayfair but feels more like Soho. Yokocho means alleyway in Japanese and Heddon certainly has that retro Yokocho vibe to it with bright red lanterns and nostalgic Japanese signage and décor you might see in an izakaya (gastro pub or dining bar).
Taste wise the Tonkotsu broth was decent although we would have preferred a slightly richer flavour. Meanwhile, the noodles had the right bite and texture to them, and the toppings were great – three generous slices of Cha-shu (pork belly), spring onions, ginger, and beni shoga (picked ginger). One thing I have to say. I felt the yoke in my egg was overcooked for a ramen "nitamago". As an extra topping, we got the menma (braised bamboo shoot slices) and these were an excellent addition.
You can find the full review here.
3) Bone Daddies
The Richmond branch keeps in line with their Rock n Roll Ramen décor with photos of leather jacket rockers all around the restaurant. By the front entrance, Bone Daddies is written in Japanese Katakana on wooden panels, and as you walk through the restaurant, you'll come across some neon lights and lanterns. Then towards the back you'll see some sake barrels on one side, and sake bottles lining the wall of another.
Their T22 is a chicken broth ramen with a name I can't decipher. Does the "T" stand for Toriniku (chicken)? Moving to the noodles – they were firm and had a good chewiness to them. The broth itself was flavourful and satisfying although I still think the soup profile could have more depth. Going back to the toppings, I had a lot of fun eating through the crunchy cock scratchings. These are fried chicken skins which have a lovely crunchy texture and go well with the soup. Finally the star of the show was the Clarence Court egg with its perfectly runny golden yolk.
You can find the full review here.
4) Tonkotsu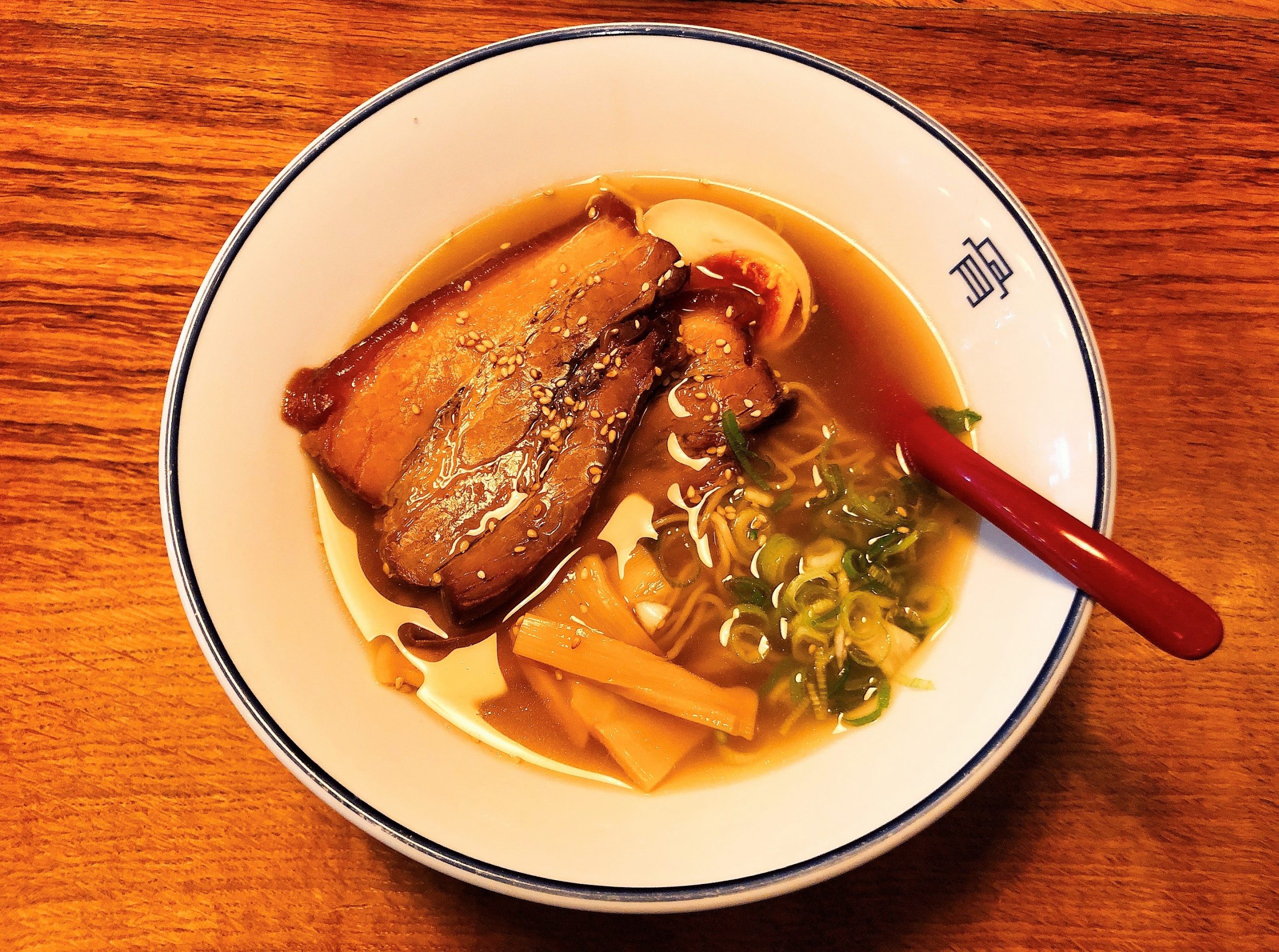 Whenever a restaurant has too many outlets it makes me apprehensive. Tonkotsu currently have 15 ramen restaurants spread across London, 1 in Birmingham and recently opened 1 in Brighton. Despite their restaurants popping up all over London, they have a great reputation and was on our hit list for a while.
For my Tokyo ramen, the presentation was great with a pleasing contrast between the white bowl and broth. The soup was a refined one with a refreshing profile and combined with a rich soy sauce tare seasoning. I found the noodles to be silky thinner strands and had a real bounce to them. This is because Tonkotsu makes their noodles in house and they are apparently cooked for 32 seconds exactly. The braised Chashu pork slice was eye-opening in size and taste and had nice fat ratio. Meanwhile, the menma bamboo shoots gave a good texture contrast after eating the amazing seasoned egg.
You can find the full review here.
5) Ippudo
We've actually been to the same shop twice – Villiers Street in Charing Cross. Most people probably check out their Central Saint Giles street branch first but Charing Cross seemed more convenient for us on both occasions. Personally Villiers Street feels more like a ramen shop you would find in Japan – a small space with limited seating located on a quiet side street.
Let's talk about the noodles. They're straight and thin and you can choose your noodle firmness. I went with the Kyushu traditional katamen (firm) al dente style, which drew up the broth perfectly. Now the part I find which differs from a Japanese Ippudo experience is the superbly balanced Shiromaru broth. It is a delightfully creamy and silky soup that has the depth that comes from a 18 hour cooking process. While it is a rich Tonkotsu, we found it not quite as rich as the Shiromaru you get in Japan. This is something we thought on this visit, and what other Japanese friends have said when visiting separately to us. Due to this, I've noticed some Japanese friends prefering the "refined" taste in London branches to that of Japan. Meanwhile other friends have said that they prefer the decadent porky broth they've eaten in Ippudo back in Japan.
What I will say is that it is probably worth getting the Shiomaru Special if you are in the Villiers Street branch. The toppings are all excellent. There is the cooked to perfection tender Chashu slice with its pleasantly chewy and melt in your mouth texture. Also I enjoyed the marinated nitamago egg presented as a whole egg. If you like your soft-boiled eggs to be almost custard-like creamy inside, Ippudo has you covered.
You can read the full review here.
6) Monohon Ramen
Translated into English, Monohon means "the real thing" and many diners declare Monohon as one of their favourite ramen restaurants in London. It is far from under the radar and you can expect a queue when you get to the restaurant. Monohon Ramen is certainly worth visiting if you are a ramen lover, although we would recommend trying out their Abura Soba for a first visit.
Monohon create their Abura Soba with a sesame oil base and tons of toppings including a half-cooked egg. Before eating and taking a photo for the 'gram, you mix the toppings, egg and super thick noodles together. These delicious noodles are made in house and really pick up the fragrant sesame oil nicely. You also get small hits of cayenne pepper during your slurp journey. It's not overpowering but makes the dish more exciting.
You can read the full review here.
7) Tonkotsu-ya (A contender for the best ramen in London for rich Tonkotsu broth)
This is absolutely a hidden gem and no this is not part of the Tonkotsu chain. It's actually part of another Japanese restaurant chain – Eat Tokyo. They opened their Bond Street branch two years ago and it focuses on serving a range of ramen. Their most popular ramen is of course their Tonkotsu, but they have Sapporo style Miso ramen and Shoyu ramen too. That's not all – they also have a Vegan ramen, soba, udon and Hiyashi Chuka!! Of course when I went it was all about the Tonkotsu ramen on my solo visit.
I'll be honest. When I took that first spoonful of broth, I did not expect it to be as impressive as it was. But what a broth! I was blown away by the depth and the richness. You could choose between regular or Kotteri (a heavier and more fatty pork soup) and I chose Kotteri. It reminded me of that thick ramen soup you can get in Tenkappin in Japan for those who are familiar. Tonkotsu-ya add in a good amount of ginger too which works fantastically well and adds to the flavour.
You can read the full review here.
8) Tenmaru Ramen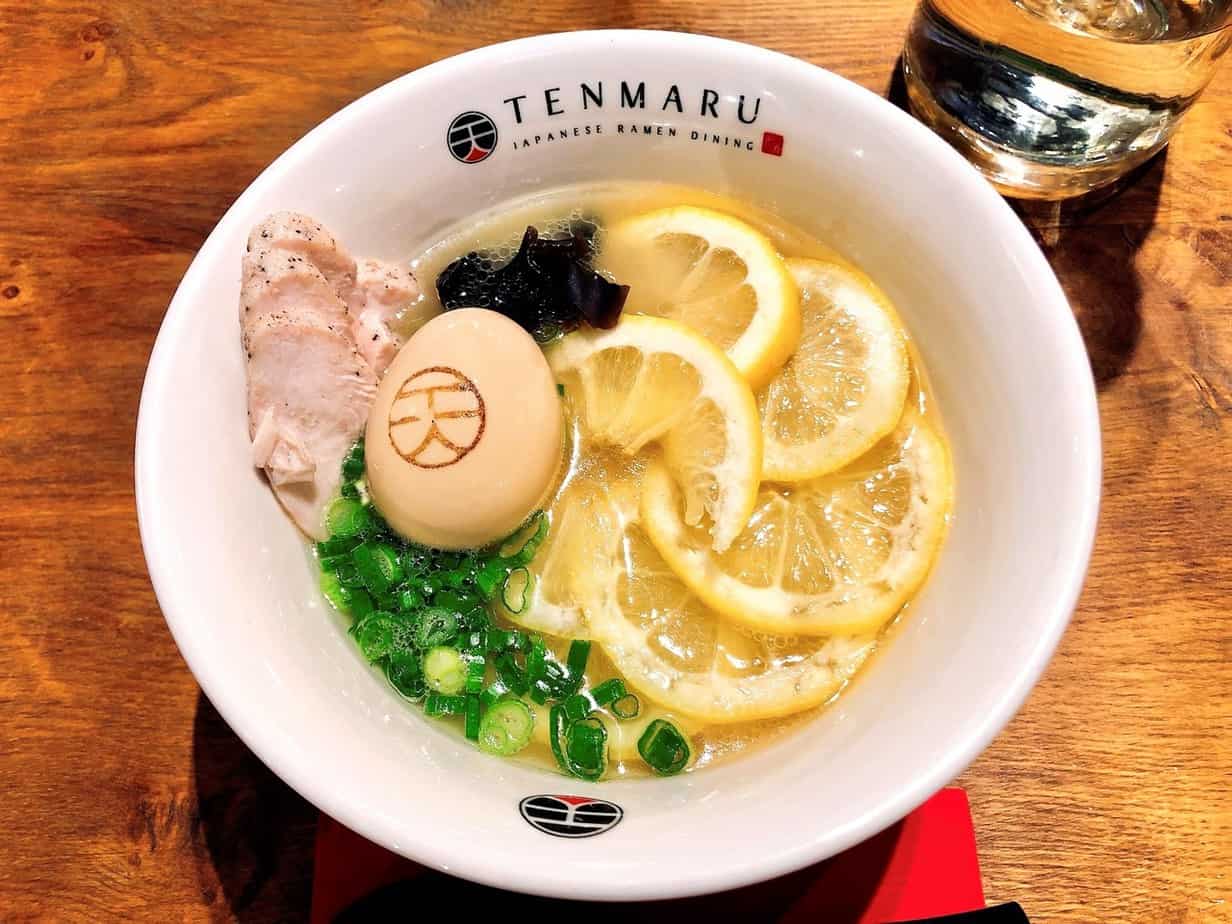 First, this is not just a ramen restaurant. Yes, the ramen at Tenmaru is absolutely as good as it looks but their other Izakaya menu side dishes are equally deserving of attention. While the lemon toppings inevitably are front and centre, the broth is a high quality and undoubtedly what keeps diners satisfied and coming back.
Overall, the Tenmaru Lemon is a Paitan broth that is lighter than your regular Tonkotsu but still has a creamy aspect to it and marries the rich chicken broth with the refreshing lemon flavours. The lemon taste is also surprisingly not overpowering even with so many lemon slices. The chicken slices were thick but soft and tender and the whole seasoned egg was superb.
How was the Vegan Lemon Ramen with Tofu topping? Again here we thought it was flavourful and creamy with the perfect amount of zest from the lemons. Tenmaru definitely do a solid vegan bowl and next time their Basil Ramen with baby corn and tenderstem broccoli is on our hit list.
You can read the full review here.
9) Shoryu – Regent Street
Shoryu Ramen is a popular ramen chain serving Tonkotsu ramen in London, Manchester and Oxford. Tak Tokumine, the founder of Japan Centre opened the first restaurant in 2012 and there's a seal of approval if any. As Tak's hometown is Fukuoka, unsurprisingly Shoryu has been focused on creating authentic Tonkotsu ramen since the start. Their rich pork broth has delighted many including Michelin and Shoryu has featured in the Michelin Guide for four years.
We've actually tried the ramen at both their Oxford and Manchester branches and were impressed on both occasions. You can read our review of their Manchester restaurant in Piccadilly Gardens here. Sides aside, the Tonkotsu ramen we enjoyed had the flavour profile and depth that you can expect in Japan. While it didn't get to the levels of Ippudo or Kanada-ya, it certainly was a reliable candidate if you were in the mood for ramen. However our recent visit to the Regent Street branch has cast some doubt in our minds about this particular branch.
You can read the full review here.
Best Ramen in London Winner is?
More reviews are coming soon. However, currently Kanada-ya Ramen is in number 1 place. The cover photo for this article is of their regular Tonkotsu ramen and you can see a photo of their Truffle Tonkotsu ramen above as well. Second place goes to Ippudo although some ramen heads certainly prefer Ippudo to Kanada-ya. From there it depends what you are going for. Tonkotsu-ya has one of the richest Tonkotsu ramen broths in London. Monohon do Abura Soba very well. Tenmaru add some flair with their Lemon ramen and have superb vegan options.
Please feel free to comment below if you have been to any of the restaurants above. Would be great to hear your experience.