First, this is not just a ramen restaurant. Yes, the ramen at Tenmaru is absolutely as good as it looks but their other Izakaya menu side dishes are equally deserving of attention. In case you didn't fancy noodles, there are rice options too such as their Karaage (Fried Chicken) Gohan and Chicken Katsu Curry with rice.
We first heard of Tenmaru from our friend @morrison.morrison.morrison, and since then have frequently noticed it popping up on Instagram. Ramen bowls like their Lemon Ramen or Basil Ramen certainly catch your attention. Like many other diners, we were spectical about how good their soup would be especially as it's a bit of a trek getting out to Finsbury. However, as you will see, it very much worth heading out to Tenmaru.
Now we did say it appears frequently on Instagram. But these posts are often by members of the Japanese community including Japanese language exchange learners. It was perhaps telling that we bumped into 2 separate groups of friends eating in the restaurant when we went! Despite being popular however, London food critics have not written a single article on Tenmaru. It does not appear in any best ramen restaurant lists either! We will add it to ours though don't you worry. One reason for this though may be that Tori Paitan is still relatively unknown in the UK. Let's give a quick explanation.
What is Tori Paitan?
In Japanese Tori means chicken while Paitan means white, thick and opaque soup. The opposite of Paitan in the Japanese ramen world would be Chintan which is a clear soup. Chicken Paitan broth is the basically the chicken-based cousin of the Tonkotsu ramen broth made from pork. For reasons that are unclear, Chicken Paitan has not really taken off in London yet. Possibly this is because the cooking process can be trickier as chicken bones are more fragile and break apart easily. Tenmaru however have mastered this receipe and know how to add some flair too!
Tenmaru Restaurant Exterior & Interior
We find many Japanese restaurants fall into the category of plain, stylishly minimalist or really kitsch. Tenmaru have decided on a new approach which blends modern styles. You'll spot a discreet neon light outside on the wall and in the front window you'll see a lantern with ramen written on it. The awning outside proclaims "Japanese Ramen Dining" lies within and once inside you'll be greeted by friendly staff. Even though the restaurant was busy, we only had to wait a few minutes to get a table. Like much of the interior it's made of light coloured wood and it's pleasing to see the naturally curvy table edges. Many customers also really love the menu items written in Japanese on long wooden boards on the wall. It's just like an Izakaya setting in Japan and this author is particularly fond of this type of authentic restaurant interior.
Tenmaru Lemon and Vegan Lemon Ramen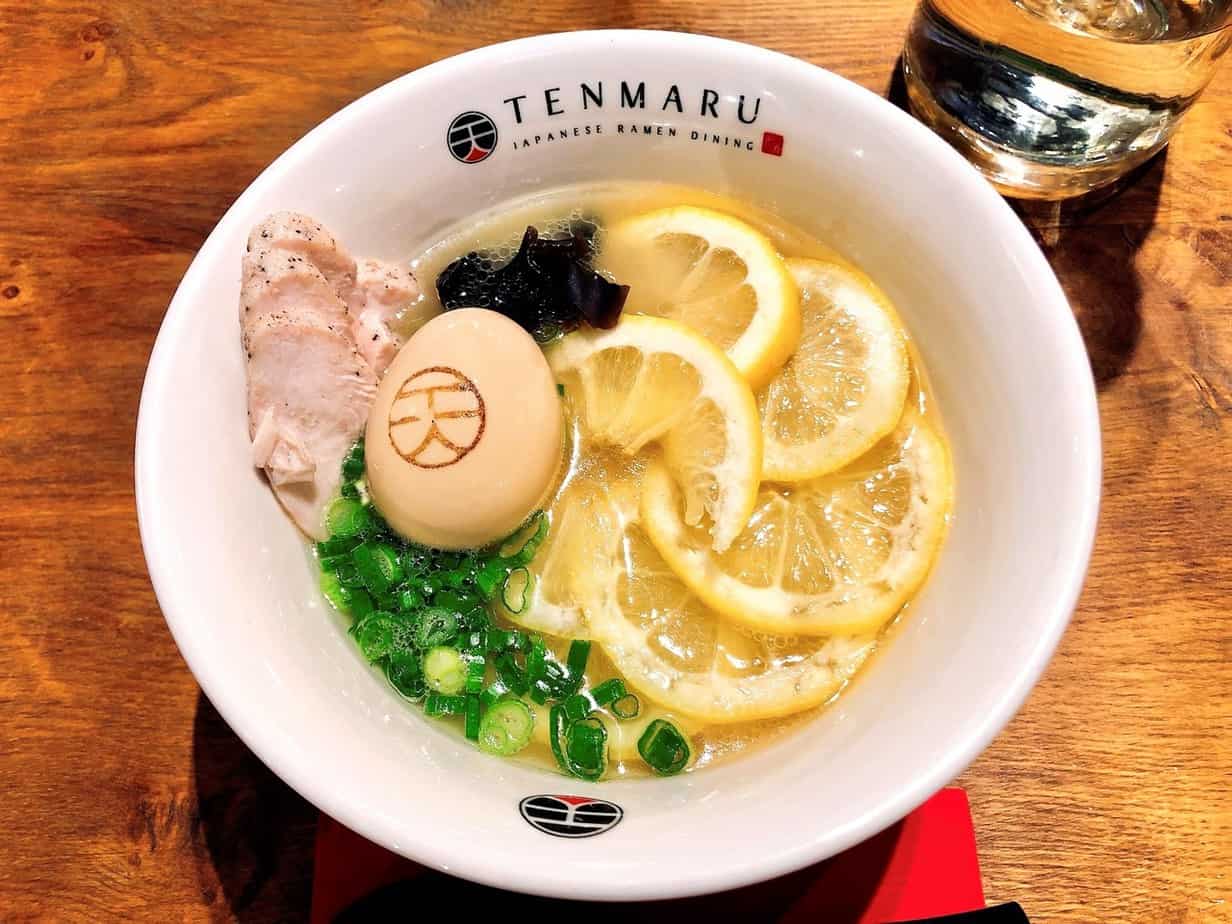 While the lemon toppings inevitably are front and centre, the broth is a high quality. Overall, the Tenmaru Lemon marries the rich chicken broth with the refreshing lemon flavours. It is a lighter broth than your regular Tonkotsu but still has a creamy aspect to it. The lemon taste is also surprisingly not overpowering even with so many lemon slices. The chicken slices were thick but soft and tender and the whole seasoned egg was superb. We're always happy when it's the right temperature and the right side of runny inside. Their noodles were medium thick, springy and were great to soak up the soup. While Tenmaru makes their noodles on the firm side, you can decide on the firmness of your noodles when you order. Extra firm is an option for those looking for that extra bite.
How was the Vegan Lemon Ramen with Tofu topping? Again here we thought it was flavourful and creamy with the perfect amount of zest from the lemons. Tenmaru definitely do a solid vegan bowl and next time their Basil Ramen with baby corn and tenderstem broccoli is on our hit list.
Side dishes
Tenmaru have some amazing side dishes which honestly would be worth going for alone. We first tried their Tako Karaage. If you're fond of Chicken Karaage Fried Chicken, you'll certainly be fans of this octopus version. We really enjoyed the crunchy batter wrapped around the super fresh octopus pieces. Not every restaurant can source this high quality of seafood and deliver at good cost performance in London so it's always a joy to find a new spot.
We also ordered their Satsuma-age which is a deep fried fishcake. You can make Satsuma-age by grinding fish and other vegetables and mixing with flour and seasoning before frying. The process takes some time and for this reason we often buy it from markets in Japan. You'll find Satsuma-age is often a topping on udon, as part of Oden, or eaten by itself. Incidentally, if you are from the Chubu region of Japan or lived or visited Nagoya, you will know this dish as Hanpen. How were Tenmaru's Satsuma-age? Sublime! They were warm and tender in taste and truly delicious when dipped in soy sauce with shredded ginger. It's one of those dishes you can savour in small bites while talking to friends and undoubtedly you'll want to order another!
Tenmaru rating
We would rate Tenmaru 4.9 stars out of 5 stars. First of all their food was excellent and authentic. It's a restaurant where you want to come back and try each dish on the menu. The menu is well thought out and caters for Japanese expats, Japanese cuisine first-timers and has tons of options for vegans and vegetarians. The location is out of the centre, but allows for a more spacious dining area where you can go in groups without fear of waiting for the only two big tables in the restaurant. We really liked the interior too which gave it a true Izakaya vibe and you wonder why other restaurants have not gone with wooden panel menus on the wall.
Another point to note is that Tenmaru do run a tight ship. It was a busy Saturday night when we went but the staff were careful to make sure all tables were kept clean at all times. When it came to service it was Omotenashi all the way – friendly and polite staff who were helpful taking orders and attentive. Soon after sitting I moved to the other side of the table to get better lighting for taking photos and one member of staff asked politely if everything was ok. Attention to detail always goes a long way in my book.
Finally Tenmaru do what they set out to do. They serve authentic Japanese food in an Izakaya setting. In our eyes they are one of very few restaurants in London who have achieved this at such reasonable prices. Their wide range of side and fried dishes also include harder to find dishes like Cheese Mochi potato, Aji fry or Menchi Katsu and you could happily go for just the Izakaya experience. Although do try their ramen at least once!
Looking for more Japanese restaurants?
If you're looking for more Japanese restaurants or cafes in London please do check out our restaurant section. We aim to have a few new restaurant reviews each month including sushi restaurants and cafes with Matcha desserts! Also if you have been to Tenmaru, please feel free to comment below and let us know how your experience was.