Whenever a restaurant has too many outlets it makes me apprehensive. Tonkotsu currently have 15 ramen restaurants spread across London, 1 in Birmingham and recently opened 1 in Brighton. Despite their restaurants popping up all over London, they have a great reputation and was on our hit list for a while. After I heard some people saying that Tonkotsu's ramen is superior to Kanada-ya, I decided to go on the next possible occasion.
This happened to be lunch the following Saturday before a theatre outing. I went with a close friend who lived for 2 years in Sendai working on the JET program and really knows what good Tonkotsu ramen tastes like. We visited the Soho branch as it seemed near to the theatre and to experience Soho in the afternoon.
Tonkotsu Interior
The Soho Tonkotsu is on Dean Street, down the street from Burger and Lobster and round the corner from Robata. There are tables under the black awning outside, and once you go in you'll see a spiral staircase winding up to the first floor. You can either sit down on wooden tables next to some stylish wall tiles or sit by the intimate kitchen counter. What is interesting about Tonkotsu is that you order and pay everything by an online menu after scanning a QR code. In some ways this is can be great for newcomers as you can see photos of the food. One downside though could be less interaction with the restaurant staff, although they were very friendly.
Chicken Kara-age and Gyoza for starters
To get things started, we ordered some fried chicken Kara-age and gyoza fried dumplings. These came out quickly and with enough time to eat them before the ramen bowls. This was a good sign, as I really am not a fan of restaurants where they bring everything all at once. The Kara-age were very generously sized pieces and had great seasoning. Also the meat was both soft and succulent with a crunchy coating. A slice of lemon was left on the side which we squeezed on top to give a zesty taste to the Kara-age.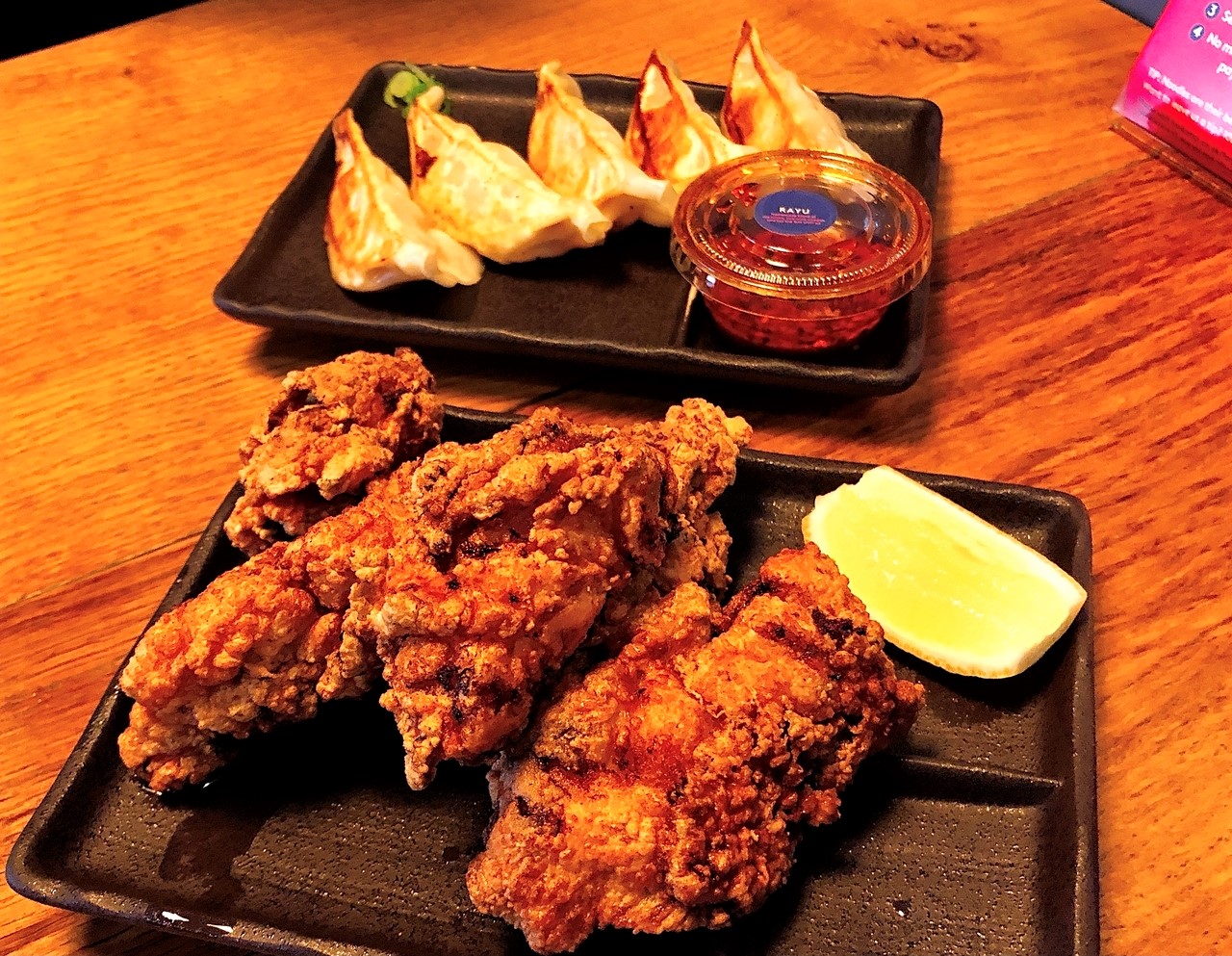 Now Tonkotsu's gyoza with pork, ginger and garlic really impressed us! They are possibly one of the best gyoza we've had at a ramen restaurant in London. They were juicy on the inside and had a crispy outside skin. The taste was sensational and the winning touch was possibly the Rayu dipping sauce. Although it came in small plastic containers, this brought back memories of Japan. Tonkotsu have definitely nailed it with their homemade blend.
Tokyo (Shoyu) Ramen and Tonkotsu Ramen
So our moments of anticipation were over and our ramen arrived. On first glance, the presentation was great, and especially for my Tokyo ramen, the contrast between the white bowl and the broth was pleasing. The soup was a refined one with a refreshing profile and combined with a rich soy sauce tare seasoning. I found the noodles to be silky thinner strands and had a real bounce to them. This is because Tonkotsu makes their noodles in house and they are apparently cooked for 32 seconds exactly. The braised Chashu pork slice was eye-opening in size and taste and had nice fat ratio. Meanwhile, the menma bamboo shoots gave a good texture contrast after eating the amazing seasoned egg.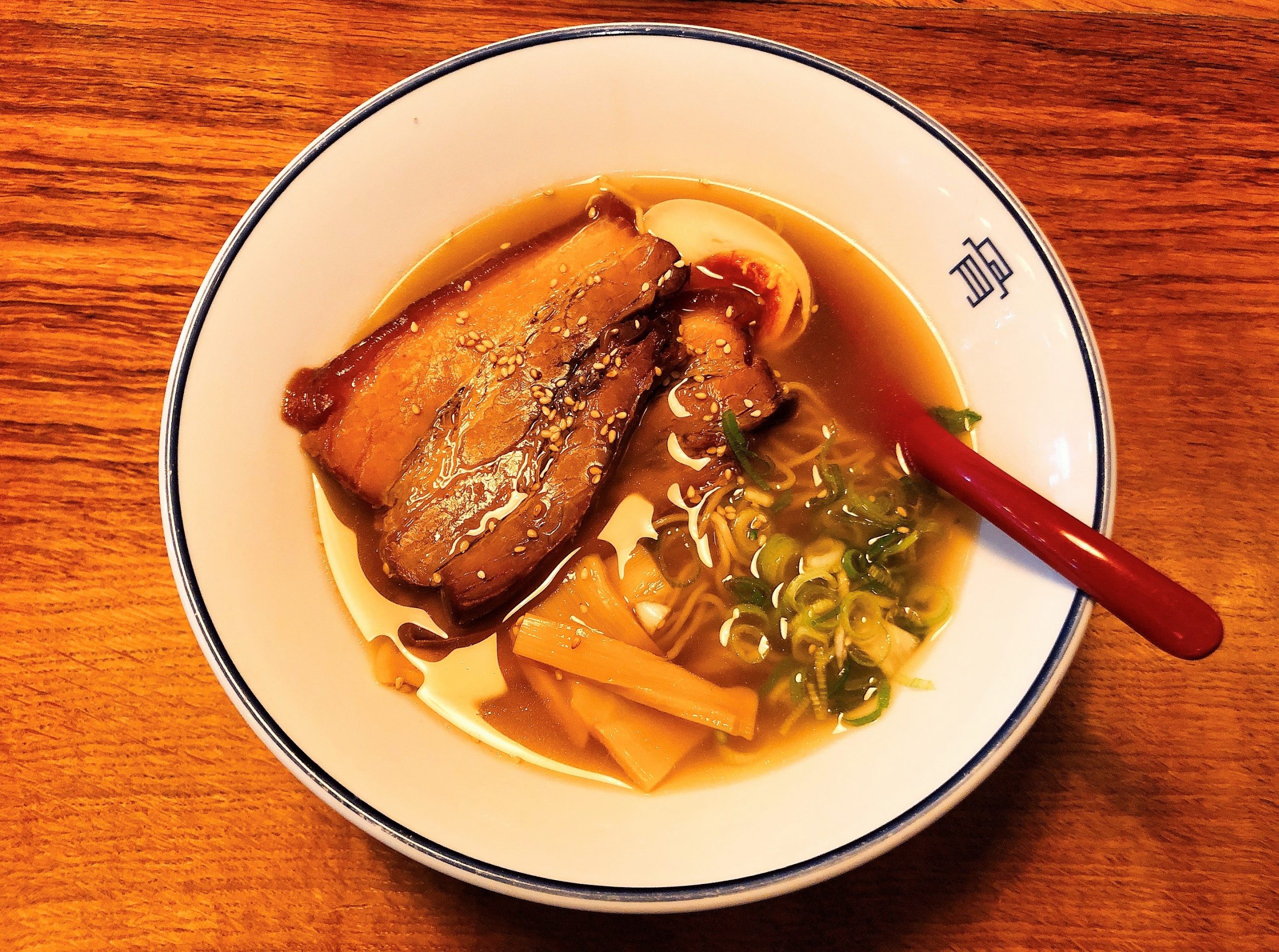 My friend got the Tonkotsu ramen which has a pork broth enriched with lardo (this seems to be from Italian pork) and a sea salt base. He said the broth was rich and flavourful and the thinner noodles had the right chewiness. They paired well with the seasoned egg which oozed creaminess and the satisfying thick slices of roast pork belly. I can see that Tonkotsu also adds garlic oil to their Tonkotsu ramen which must have made it extra delightful.
Tonkotsu Rating
I would say that the ramen at Tonkotsu does live up to its hype. They put a lot of love into their noodles made in-house and also their 18-hour broth. Personally, I prefer the depth of the soup that you get with Kanada-ya, however I didn't order Tonkotsu's Tonkotsu so I can't do a direct comparison. This may really come down to preference of how thick you like your broth. Of course what this means for me is another trip to Tonkotsu to try out their signature ramen.
When it comes to sides, Tonkotsu's gyoza dumplings with their accompanying Ra-yu sauce is one of our favourite in London. Their chicken Kara-age are also fantastic. One thing I wasn't so sure about was ordering your meal on the phone. While it was novel, I felt it would be nice to talk to the staff. Having said that this might streamline everything and perhaps I need to get on board.
For a rating, I would give Tonkotsu 5 stars out of 5. It's great to find another excellent London ramen restaurant. While I can't say everything is exactly the same as you would get in Japan, it's very near to it. Next time I'd like to try their Tonkotsu of course, and perhaps for the time after that their vegetarian ramen bowls.
If you are looking for alternative ramen spots across the capital, please check out our top ramen restaurants in London list.