You can explain the word Izakaya as a Japanese-style gastropub. It's a place where you can expect a wide-range of delicious food including sashimi and sushi as well as grilled or traditional nimono (simmered) dishes. While the number of Izakaya restaurants are still limited in London, you do have some excellent options. Jinkichi is an authentic family-run Izakaya in Hampstead that sits comfortably in the mid-level range. It's a place where you can eat incredible Japanese food at reasonable prices and spend an evening with friends that you'll even reminisce about years later.
Being in Hampstead, Jinkichi is a little off the beaten path for many however it is worth traversing across London for. Once you get to Hampstead station, you don't need to walk far to get to Jinkichi but it isn't the easiest restaurant to spot. So keep your eyes peeled for this window on the left side of the road otherwise like us you may end up walking straight past.
True Izakaya Feel
Once you step inside, you'll find a cozy and small interior waiting for you. Jinkichi is extremely popular so it's unlikely that you can successfully attempt a walk-in even mid-week. Instead be good to yourself, and book seats on the ground floor. You can either get counter seats where you can see the skills of the chefs on show, or get a table behind. We were lucky to get a table next to the Ikebana (arranged flower) alcove. If you are looking for a real Izakaya atmosphere in London, Jinkichi is where you can find it.
Yakitori
Jinkichi's robata grill means you can enjoy a good variety of Yakitori (BBQ skewer) plates. This includes popular items like Tsukune and Tebasaki and Ox tongue and Chicken Gizzards for the more adventurous. Even Yakitori-ya regulars hoping for grilled chicken skin or liver are accommodated. For the non-meat diners, you'll be happy to know Shiitake Mushrooms, Asparagus, and Shishito pepper are on the menu too.
Not the best photo but these chargrilled Tsukune meatballs were juicy inside, crisp outside, and drapped with a lovely sweet Yakitori sauce.
Having lived for more than 15 years in Nagoya, a city famous for its Tebasaki, the bar is set quite high. Jinkichi of course came through with some utterly delightful uber-crispy chicken wings. The inside was soft and succulent and the salt flavouring was perfect by itself. We would recommend eating one skewer first without the lemon and then adding some zesty lemon to the second to make the mouthwatering experience even better!
Jinkichi's Yakitori chicken skewers are outstanding. They cook the thigh pieces to perfection and their chargrilled skin combines wonderfully with the sweet Yakitori sauce.
These grilled golden brown Shiitake mushrooms were as good as expected and provided a rich umami hit. If you like your mushrooms we would definitely recommend ordered a few skewers.
Sashimi & Tempura
It's always pleasing to see well-presented dishes and Jinkichi's sashimi plate is strong in it's presentation. Bonus points of course for the shiso leaf as we do like our shiso. Perhaps more to the point, this Mixed Sashimi comes with Yellowtail and Sea Bass so you are getting a nice selection. As you may expect, Jinkichi serve quality cuts of fresh sashimi and inevitably you may need to do a round of janken (rock, scissors, paper) for that last slice.
My dining partners kindly helped with the lighting to get some nice photos. Here we managed to capture the Mixed Tempura pretty well. The King Prawns were large and full of flavour and came in a flawless tempura batter. The aubergine had the crispy crunchness required too and had a refreshingly light and delicate flesh.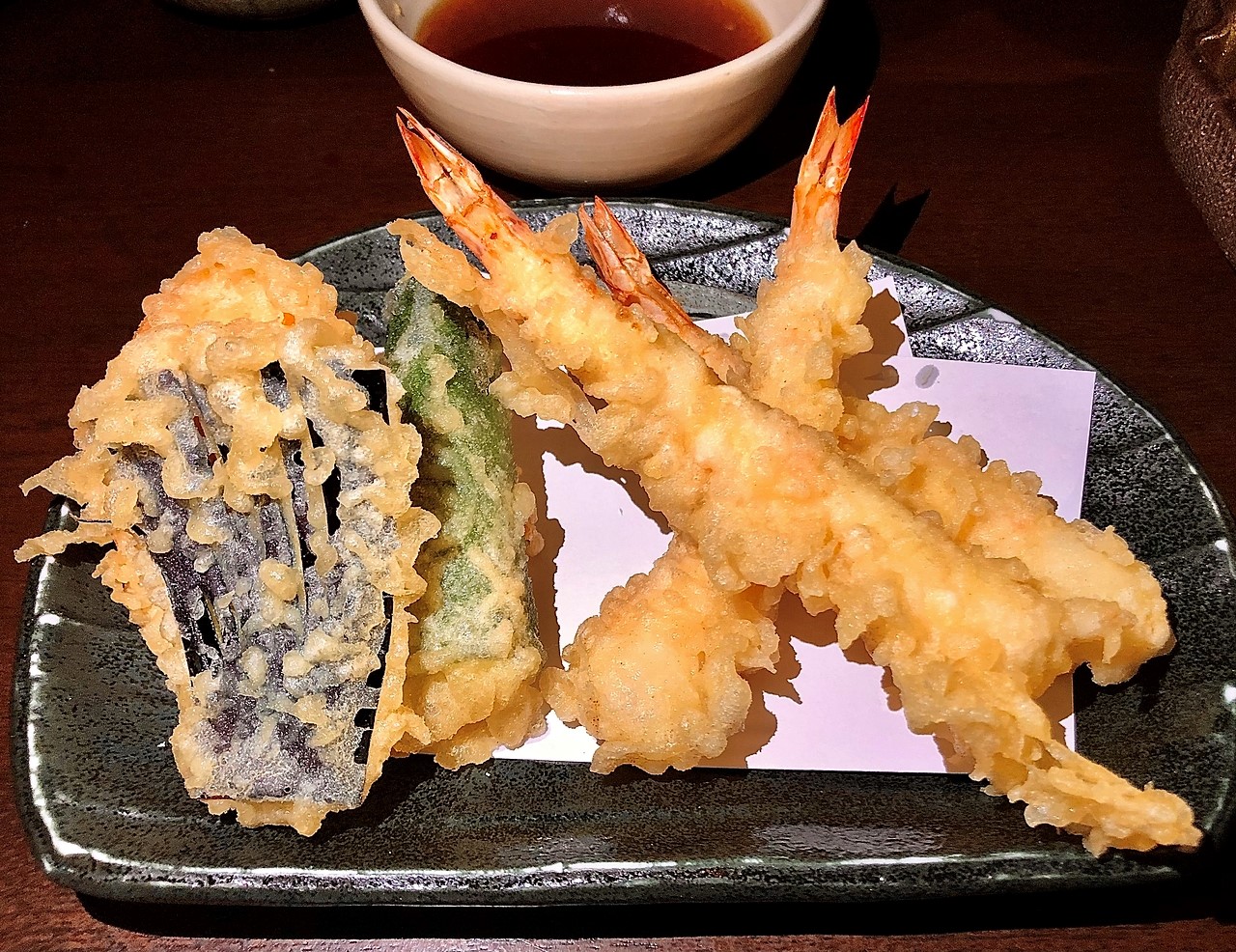 Other Izakaya dishes
We ordered several other dishes and everything we had was superb. I particularly enjoyed the Agedashi (Deep Fried)Tofu and the Sake Onigiri (Riceball). Meanwhile my friends ordered an Ume Onigiri and we all shared some Tekkamaki (Tuna rolls) and Kanypo (Cooked Gourd) rolls too. Finally we finished with some scrumptious Uzura quail eggs from the Robata grill.
Jinkichi Rating
A solid 5 stars out of 5 stars for Jinkichi. People say that family-run restaurants are the best and Jinkichi is a great example of this. The food is exceptionally good and the service is excellent. All the staff are attentive and the Omotenashi hospitality was there all the way throughout our evening.
We really loved the atmosphere too although we realise that this cozy and intimate environment upstairs may not suit big groups. There is a downstairs floor that might be better for those looking for a nomikai (drinking party) after work. In fact, when we had a quick trip downstairs, we did find a Japanese "salaryman" group getting their drink and food orders in.
Speaking of drinks, Jinkichi has an extensive sake list and to truly appreciate it, we'd recommend taking a look at this review of Jinkichi by Alex, a Sake-Specialist and IWC Sake Judge. Apart from going into the sake list in-depth, Alex also gives his opinion on the food available at Jinkichi.
Finally, at the end of our meal we were lucky enough to meet Matsumoto-san who is the owner of Jinkichi. Matsumoto-san has been dutifully manning the robata grill at Jinkichi since the 90's and it was great to exchange some words. It's clear that at Jinkichi the food comes first and things like Instagram are not even on his mind! We can only hope to have more Japanese restaurants like Jinkichi in London.
---
Have you eaten at Jinkichi? How was your experience? Please feel free to comment below. Also, if you are looking for more authentic Japanese restaurants in London, please check out our top 10 Japanese restaurant recommendations.