Had a lovely afternoon at The Shotengai Japanese market last month. Shotengai in Japan date back hundreds of years and in many areas of Japan, these free markets become covered streets with small independent retailers that are often family run. You can find all kinds of stores at Shotengai but some of the most common are bakeries, street food, clothes stores and lifesyle shops. At Lower Stable Street at Coal Drops Yard in Kings Cross, you can experience a traditional outdoor market Shotegai. This is coordinated by Beams & Co, who will be organising the event on the 3rd weekend of every month this year through to December.
What food and drink can you buy at the Coal Drops Yard Shotengai?
Shima London
Rise Bakery
Speck London
Okan
Shima London
First, we were happy to see @shima_ldn again. If you follow our Instagram account, you'll know how much we enjoyed their cakes when we went to the Kanpai Kurafuto market. This time we bought their exquisite pistachio raspberry roll cake along with their Choux Cream. If you are missing Japanese style Choux Cream, you'll enjoy their rich custard cream goodness and airy choux pastry.
Meanwhile we found the combination of pistachio buttercream and raspberry jelly in their sponge roll cake to be the perfect treat for a hot summer day! Shima London won't be at the next few Shotengai markets but you will be able to find their account on Instagram and order from them directly,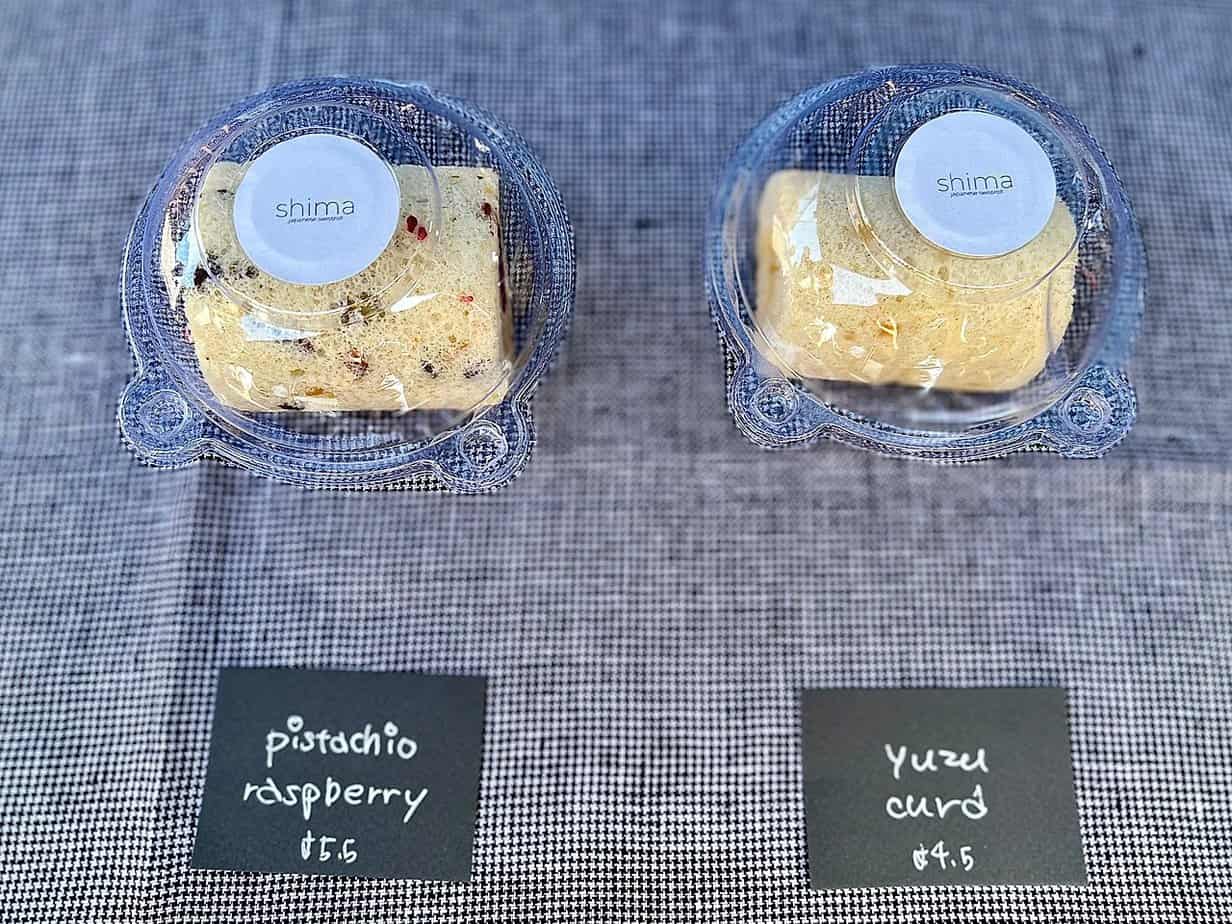 Rise Bakery
@rise_bakery_bar had some truly spectacular Strawberry and Yuzu tarts plus Matcha brownies on sale. Not only that but they have some giant Yakisoba bread too! You may already know Happy Sky Bakery in West London and have seen the authentic Japanese baked goods they offer. Rise is connected to Happy Sky Bakery and it would appear to us to be the upmarket version with some seriously Instagrammable pastries, brownies and doughtnuts.
Here you have their Yuzu or Matcha Bakery doughnuts on the left and their Vegan Curry Bread to the right. You probably can't see the size of these doughnuts but they were huge. We got the Matcha doughnut and while delicious it's something probably best shared among two people! (The Vegan Curry Bread were also definitely a hit with customers despite a slightly expensive price tag (£7.5 for one). It is rare to see Vegan versions in London though so perhaps not a surprise at all!
Speck London
Was excited to meet @speck_london as we had read they were making fresh Tsukemono pickles. It's a funny thing but you take Tsukemono for granted in Japan. After returning to the UK, I personally really crave them and am often buying them from Japanese supermarkets.
We met the owner of Speck – Mel who actually lived and went to school in Japan a number of years ago. She showed us that she not only makes pickles but also furikake (a condiment typically made with sesame seeds and chopped seaweed).
Below you can see this toasted nori and white peppercorn gomashio on the right. Then to the left is the Shotengai Market Special Furikake with fermented carrots and beetroot. Speck make their produce often using seaweed and sea vegetables from around the British Isles. We found it interesting there are so many kelp farms in Scotland too!
Below is a photo of their fermented Pink Daikon Dill and Mustard plus Golden beetroot in rice vinegar. We tried some and they were absolutely gorgeous. We definitely want to find Speck at the next market and buy some of thieir Tsukemono and Furikake. Their salted nori butter looked like a winner too!
Lifestyle at the Coal Drops Yard Shotengai
Ki:ts
If Not Now
Problem Press & No Dice
Ki:ts London
@kits_londonshop are simply amazing! They have so much on offer including bags, accessories like leather wallets and t-shirts. They also have lifestyle items like Imabari towels, Japanese Face masks and Matcha. You can still check out the Ki:ts store opposite Selfridges when they are not at the market. Owner and designer Takaharu Osako has an eclectic range of curated products from UK + Japanese independent brands, and he's installed a matcha machine too if you'd like to try some authentic and refreshing matcha tea from Kyoto.
Our favourite item at Ki:ts was the Hibi ヒノキ(cypress wood) matchstick incense which are truly divine and the aroma honestly takes you back to Japan in a heartbeat. On top of the matchstick boxes they also have some innovative incense string which works in a similar way releasing aroma gradually as it goes. Bought the matchsticks ones and use it regularly. Makes for a great present for friends as well!
Ifnotnow
The first thing that catches your attention about @ifnotnow.co is their striking designs. If you like manga and anime you'll spot them instantly whether it's on their prints, tote bags or clothing collection. It's also great to see Japanese on t-shirts that actually makes sense. You want to know the kanji characters on the sweatshirt that you're wearing are approriate even if you were walking down a street in ShimoKitazawa in Tokyo. Ifnotnow founder Bhav certainly makes sure all the products they sell pass this test. Not only do they look good but they feel good too as they are made from 100% GOTs certified organic cotten.
Definitely recommended checking out Ifnotnow's online site! As mentioned they have tons of cool prints like this one below, as well as accessories and stationery at reasonable prices.
Last but not least, Ifnotnow are selling some incredible lacquered skateboards by @uyudas. Yu Suda, is a super talented graphic artist and you just have to take a look at his Instagram. He does exhibitions all around the world and printed a modern arrangement of Ukiyoe (woodblock period prints) on lacquered skateboard and fingerboard deck. These decks are stunning and beautiful to look at and highly recommend checking them out in real life at the next market!
Probem Press & No Dice Project
Had to stop by the @problempress stall. There is something fascinating about artists like Stephen Kenny who are true wordsmiths. If you check out the linked Instagram account and you'll see what we mean: Stephen does some next level designs! Love the Make Onigiri not War prints and those with Japanese Katakana on them. What initially caught our gaze was these dice bags from the @__n.o.d.i.c.e project. They're made from vintage Japanese boro fabric and come with 6 wooden dice.
Japanese Shotengai at Coal Drops Yard
Hopefully this gives an idea of the Japanese food stalls and vendors that you can find at the Monthly Shotengai Market! Thank you so much @beams_and_co for producing and curating the monthly market. If you want to know more about the stalls and what they offer, have a look at Beams and Co's Instagram as they give a profile for all stall operators.
What we should mention is that often there are less than ten Japanese stores at each market, so please don't imagine there will be hundreds! Having said that, there are many gems and hidden treasures to be found. Definitely head over one time, eat some of the amazing food and take home some of the fantastic lifestyle items on sale!
Also if you are interested in getting some recommendations for Japanese restaurants or cafes, please check out our pick of the top 10 Japanese restaurants and cafes in London.