In the northeastern Tohoku region of Japan lies Aizu Wakamatsu, a city well known for its samurai heritage and even called the Samurai City. It's equally famous for its craftsmanship, award-winning sake and local cuisine. Among the many traditional shops in Aizu Wakamatsu is Nagatoya – one of the longest established confectionary shops in the region. It was founded 170 years ago when one of Aizuwakamatsu's feudal lords ordered a small sweets maker to make affordable snacks for everyday people to enjoy. Ever since Nagatoya has been delighting generations of local taste buds with delicious treats!
When visiting Nagatoya, you'll quickly see that they have a range of traditional Wagashi Japanese sweets that includes Baked and Steamed sweets, Tea ceremony sweets, Dried candies, Monaka wafers with fillings, and Yokan. These make for a perfect gift or treat for yourself especially with all their seasonal products. Nagatoya prides itself on using quality local ingredients such as the Onigurumi walnut which is native to Japan. This walnut is quite rare to find, not only due to its non-bitter taste but also because of its hard shell which requires splitting by hand.
In the Honten (main store), there is a captivating display featuring Onigurumi walnuts that you'll spot straightaway. Beside it sits elegant wooden boxes filled with 17 bite sized treats made with these walnuts called Kagunokinomi.
Nagatoya Stores in Aizu Wakamatsu
There are two Nagatoya stores in Aizu Wakamatsu. The Honten store is a 13 minute walk from Nishi Wakamatsu station while the Nanukamachi shop is easier to access being a 3 minute walk from Nanukamachi station. You can read more about the Nanukamachi area and why it's famous in our full guide of things to do in Aizu Wakamatsu. Although both stores are stylish and well designed, we opted to go to the original main shop to see where it all started.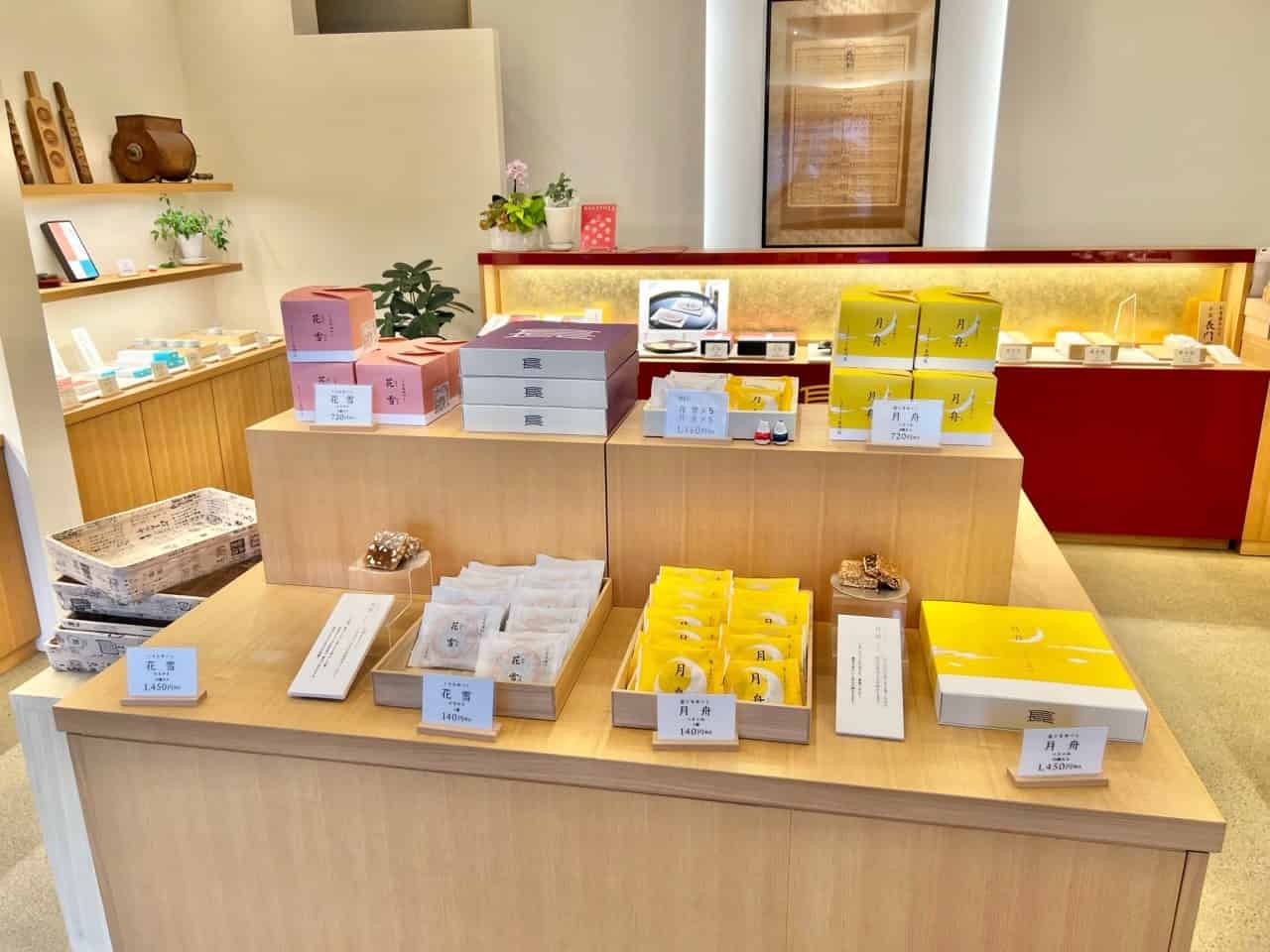 While looking around the store, you'll notice some of the wooden molds that have been used and passed down at Nagatoya. These molds are a vital part of any traditional Japanese confectionary store and gives you a sense of the craftsmanship that goes into creating Wagashi sweets. You'll also learn that each of the 12 designs you see for the Wasanbon sweets have a special meaning. For example, the Chrysanthemum represents long life, the Chidori bird brings good luck, and the Sea Bream is used for celebratory occasions.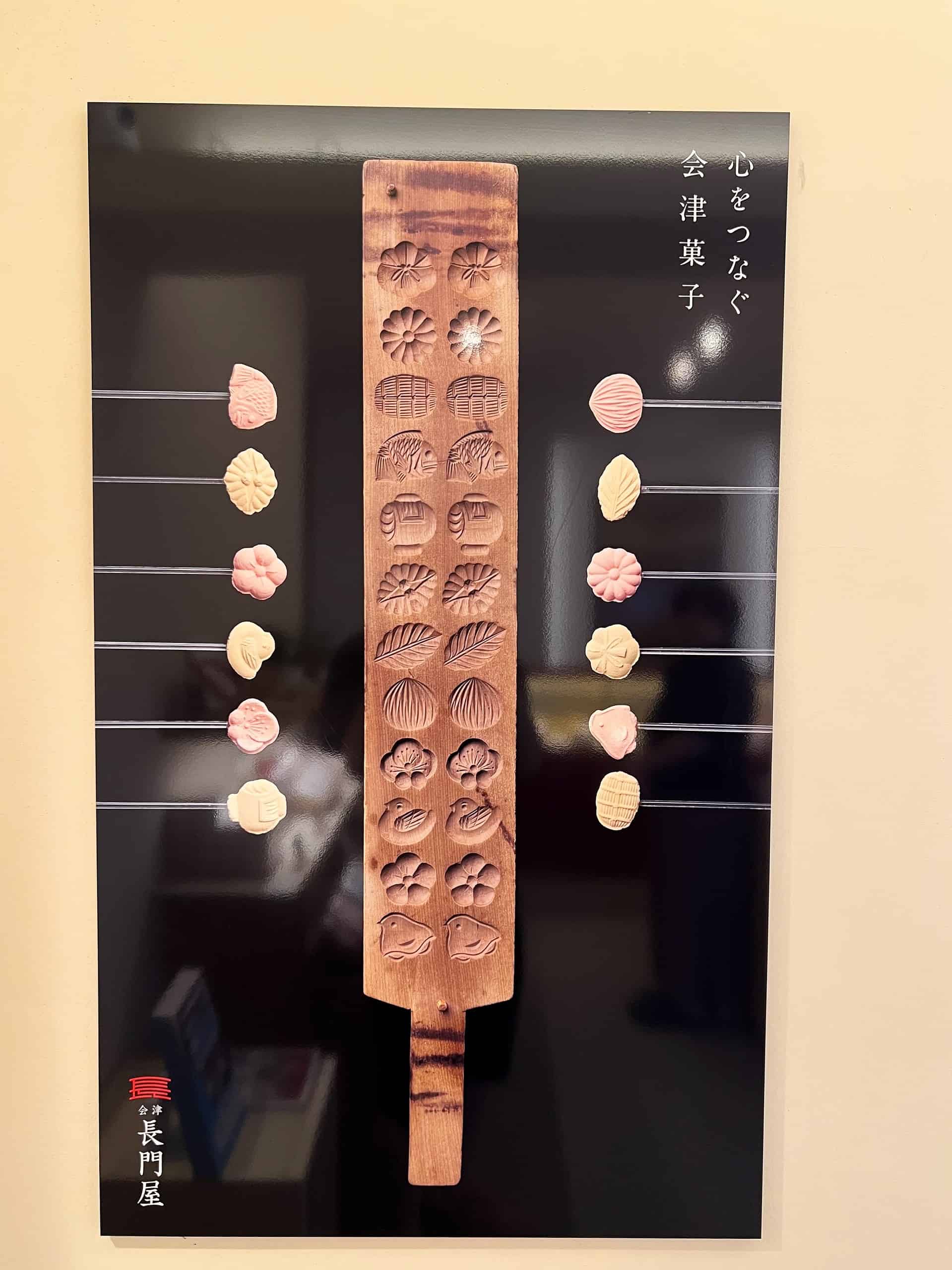 Since its establishment, Nagatoya has built a reputation for its innovation and staying ahead of the times. While preserving traditional techniques when creating their hand-made treats, they are committed to adapting them to reflect modern tastes and to appeal to a wider audience. There have actually been a number of new creations in the last decade and the designs have not only drawn attention to Nagatoya but has won them several well-deserved awards.
We were fortunate enough to receive some of these modern sweets as gifts to take home and enjoy. It also gave us the opportunity to take some photos to show you how beautiful these creations are.
Wasanbon Sugar Muddler
As you'll see in the image below, the sugar muddler can be used to add a touch of sweetness to your favourite hot beverage. The type of sugar used is Wasanbon, a high-grade Japanese sugar produced in Tokushima on Shikoku island since the early 19th century. It's a rare type of sugar that is mostly made using a variety of sugar cane called bamboo sugar, and simply melts into your tea or coffee to make it that more delightful.
As mentioned above, there are 12 unique Wasanbon sugar muddler designs. Here you can see the Sakura cherry blossom design above which signifies the start of something new. The basket design in the bottom image brings good luck and makes sure you are never in a position where you'll be hungry, while the top pink design below above the cherry blossom muddler is a small hammer. If you shake it while making a wish, your wish will come true.
Fly Me to The Moon
Inspired by a desire to bring traditional Japanese confectionery to more people, Fly Me To The Moon has emerged as an award-winning innovative yōkan. It marries classic manufacturing techniques with contemporary flavour profiles and creates a fresh new way of experiencing Japanese sweets. The artwork for the gift box for Fly Me To The Moon was crafted by Reika Masuda, a Japanese artist from Namie in Fukushima. From its captivating imagery to its fairytale-like characters, you'll be immediately drawn in, and the box is so beautiful you'll want to keep it on display even after you've opened it.
After opening up the box, a block of sweet Yokan carefully wrapped in paper is revealed. The packaging contains instructions on how to cut the Yokan jelly, and it's almost like you're unveiling a hidden treasure as you slice through the block. The story that will unfold through the series of slices in front of you is one of a bird spreading its wings and gradually flying towards the moon at night. With the bird flapping its wings and the moon changing from a crescent to a full moon, you can't help but be impressed by the intricate design and the level of detail that goes into crafting these handmade sweets!
This exquisite Yokan cake not only looks incredible, but tastes delicious too. Between the top and bottom sweet Azuki layers (red bean jelly), you have a transparent layer of Kingyokukan (champagne-flavoured jelly), and the moon shapes and bird decorations are made from lemon flavoured Yokan. Pieces of cranberry, raisins, and Onigurumi Japanese walnut are embedded in the top layer and add a variety of textures and flavours.
As you bite into a slice, you'll discover a landscape of tastes with each layer. The sweetness of the Azuki is followed by the Western taste that comes with the champagne flavoured Kingyokukan, with the lemon Yokan adding a touch of sourness. My favourite layer was the top one with the Onigurumi walnuts and raisins accentuating the Azuki each providing a distinct flavour and texture.
Fly Me to The Moon can be enjoyed with tea, coffee, or wine and if you like jazz, we would recommend putting on that famous melody by Frank Sinatra. It's sure to bring a smile on your face as you savour your tasty treat!
How to eat Fly Me to The Moon
Here are a couple of tips to keep in mind before serving and eating. To start, remove the paper-wrapped Yokan from the box and turn it upside down so that the design will appear correctly.
Next, remember to cut horizontally across the Yokan block not vertically and slice it into 1.5cm to 2cm pieces with a sharp knife.
After cutting each slice, wipe your knife with a cloth so you can see each new scene clearly and there are no jagged pieces.
When serving you can lay each slice upright on a plate, and check the story narrative in the correct flow.
Get your favourite drink, switch on your background music of choice and enjoy!
Shop Information
Should you be in Aizu Wakamatsu, we would highly recommend visiting one of the Nagaotoya stores. As mentioned the Nanuka Machi shop will probably be easier to add into your itinerary but if you have more time, the Honten is worth visiting.
Nagatoya Honten (Main Store) Address: 2-10 Kawaramachi, Aizuwakamatsu-shi, Fukushima-ken, 965-0865 Japan
Tel: 0242-27-1358
Opening times: 9:30 – 17:00. Closed on Sundays.
Yelp: Honke Nagatoya (Nagatoya Honten) – Location and how to get there
Nagatoya Nanuka Machi Address: 3-30 Nanukamachi, Aizuwakamatsu-shi, Fukushima-ken 965-0044, Japan
Tel: 0242-29-7070
Opening times: 9:30 – 17:30 but during winter closing at 17:00. Closed during the New Year holiday.
For more information on how to get to both Nagatoya stores, please check their website – shop info page ( in Japanese ).
How to order
If you are visiting Japan, another way to purchase Nagatoya's products even if you are not going to be in the Tohoku region is to have your items delivered to the hotel you are staying (in Tokyo or Osaka for example).
Also, currently Nagatoya do not provide international shipping, however a great alternative option to consider is the forwarding service Tenso. You can find more details on the Tenso Service if you scroll down to the International Shipping Section of the Nagatoya Website in English page.
---
We hope this has been a helpful introduction to Nagatoya and all the fantastic sweets that they make. For those looking for more information on visiting the city where Nagatoya is located please check out our full guide of the best things to do in Aizu Wakamatsu. Also, if you're considering your first trip to Japan and you'd like to try a food tour, you may find our 20 Best Japan Food Tours to be useful when planning out your holiday.