There are so many good reasons to want to study Japanese. Some people want to get to a certain level of speaking before travelling, so they can get around easily and enjoy their trip. Others may be contemplating living or working in Japan or looking to use Japanese to get ahead in their career. You may have a Japanese partner or Japanese family and want to communicate better. Or you may want to understand Japanese culture as you began to immerse yourself in the Japanese world. It's more than likely that you have more than one reason to improve your Nihongo. Here are what we have found to be the best ways to learn Japanese online especially if you are in the UK.
Ippo Ippo
If you've been reading our monthly Japanese Events Calendar, you'll recognise Ippo Ippo who run regular online Zoom events where you can join Japanese tutor Elly Darrah to find out more about Japanese language and culture. Each event follows a relaxed format and there are plenty of chances to ask questions. What makes these events unique is that you can pay as you feel, and there is no obligation to pay to attend (although places are limited). Elly is an experienced Japanese tutor, and for those wanting to study Japanese in a group course, you can join the Travel Japanese or Japanese for Beginners course as well as the JLPT courses starting in the new year.
Ippo Ippo is also a great resource for studying Japanese online. There are regular blog posts that go over the word of the week or Japanese foods to try in Autumn. What we really like about Ippo Ippo's blogs are they are full of details. You not only get an explanation of the word or phrases introduced but plenty of examples sentences and how these particular words or phrases contrast to similar ones and how they can be used naturally.
And while the blog is focusing on the best ways to learn Japanese online, Ippo Ippo also holds in-person social events and language learning events. From December, Elly and fellow Japanese tutor Hitomi Kobayashi will be launching a Japanese Book club at Lighthouse Bookshop in Edinburgh. Yet another great way to practice your Japanese speaking if you're in the area!
Rakuten Viki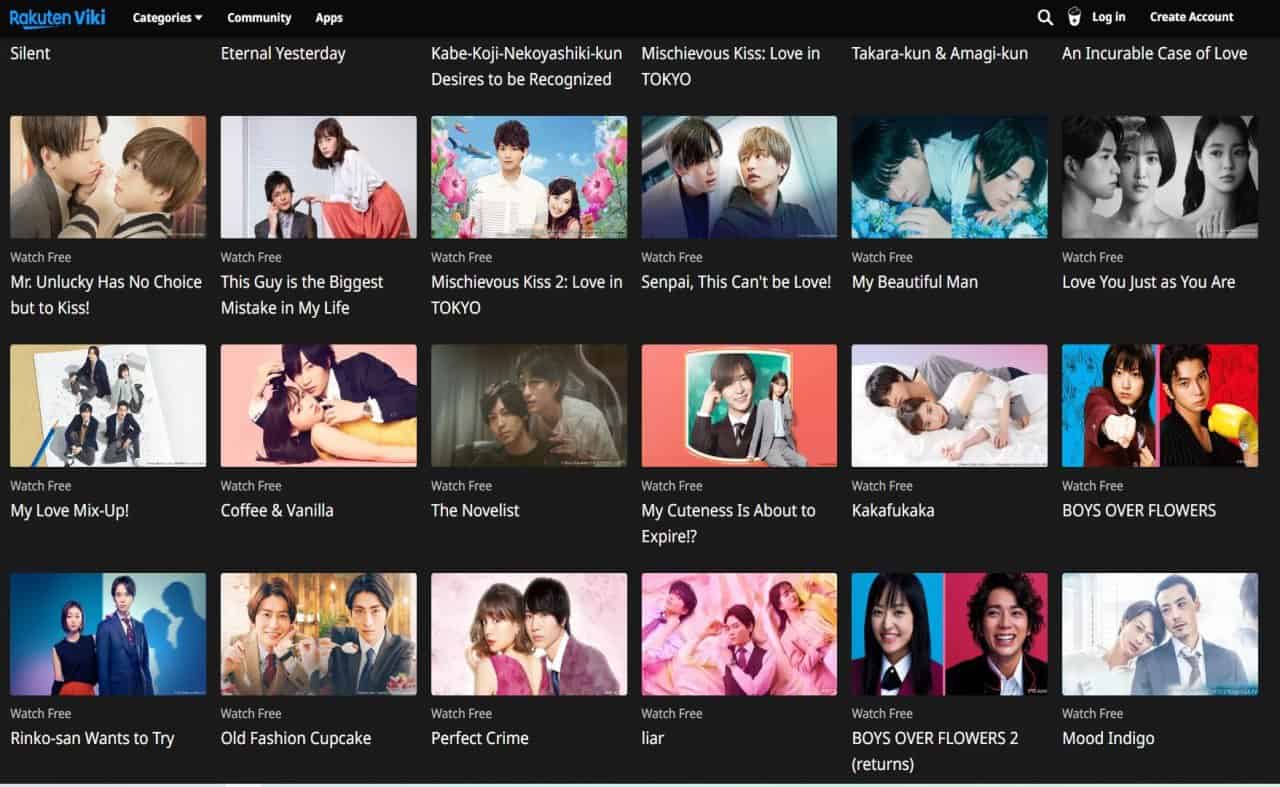 A great thing about Netflix and Amazon Prime is that you can see several Japanese TV dramas and movies. There is a limit however which you'll reach quite soon, or you'll find some generally not to your taste. One free website or app that can supplement your Japanese language skills especially listening and reading is Rakuten Viki, where you can see subtitled Asian Dramas and Movies from Korea, Mainland China, Taiwan, Thailand and Japan.
We actually came across Rakuten Viki when reading through the blog of Zusetsu store, which sells Japanese Furoshiki and Tenugui as well as a range of other beautiful products. You can read their post about their favourite Japanese dramas and also how watching dramas with both English and Japanese subtitles can help improve your Japanese skills.
As mentioned, Rakuten Viki is free and their business model has ads at 4 or 5 points during the drama or movie. As long as you don't mind skipping through 10 to 15 seconds of ads, it's a small price to pay for having fun while learning Japanese.
Hello Talk app
Do you want to find other Japanese learners and make language exchange partners with native Japanese speakers? Hello Talk is probably one of the best free apps for this purpose and has over 30 million users worldwide. Not all are Japanese language speakers or learners, but you'll see there is a large enough Japanese language community on Hello Talk. What's really cool is that you can post your "moments", so it's very social and there is a feature for other users and friends to correct your Japanese, and the idea is that in return you will correct their English or language they are learning.
The only downside to Hello Talk is like social media you can easily spend a lot of time on the app following others. However, reading other posts in Japanese with an English translation is going to be helpful and you can also connect to other users and set up a language exchange that will help with your speaking. Definitely a fun and rewarding app to check out.
Tofugu
This is an incredible website that we discovered in a blog by Ippo Ippo. Tofugu by themselves tell you that they don't teach you Japanese (although you can learn a lot checking through their articles). What they mean though is the site is not solely geared towards Japanese language learning but also Japanese culture and topics for anyone interested in Japan. They do have excellent grammar guides and clearly show the differences between expressions that sound similar. You can search through their grammar points as well which are comprehensive for anyone at a beginner or intermediate level.
What makes Tofugu a vital part of any Japanese learner's toolkit is their resources section which introduces all manner of Japanese websites and apps on multiple platforms. Not only do you have a multitude of Japanese podcasts for all levels, but you get recommended Japanese YouTube channels, Manga, e-books and flashcards. Then, you also have Tofugu's own series of podcasts. They provide insights into learning Japanese, travel tips when you first visit Japan and gems like how to get a job in Japan and how to make the most of your life in Japan.
That's not all, though. Tofugu cover a similar range of topics and more in their blog section with recent posts like how to live in Japan when on a working holiday visa as well as topics often not covered like how to get a master's scholarship in Japan or how to do secondhand shopping to save on costs there.
Japan Journals / Journey London
Even if you don't reside in the capital or nearby, Japan Journals is surely one of the best ways to learn Japanese online. The website is geared towards Japanese people living in the UK, and this is what makes it interesting. Assuming you are UK based or lived in the UK recently, you can instantly relate to a lot of the things you read. Possibly, the most useful section will be the news and hot topic section. For those aiming to be able to read the news in Japanese, you'll probably know the pain of coming across topics or people that are unfamiliar to you when browsing through the Japanese daily papers. Here, this isn't an issue and you can see all the latest goings on, get through articles quicker and see the UK news from a Japanese perspective.
The other sections are great for Japanese learning, too. There is one that covers travel in the UK and day trips and another part of the site that covers food, recipes, and restaurant guides. The Eikoku Buraaruki blogs and YouTube channel go into history and documents famous people in Japanese, which will help build up your vocabulary. Personally, a favourite section of ours is the recipe section which you can also see on their Instagram account (Journey London). While you can see Japanese recipes, they also introduce Italian, British or other international dishes in Japanese.
VOCABULA MUSIC JAPANESE
One other online resource that we have recently discovered is VOCABULA MUSIC JAPANESE. It's an experimental youtube channel for learning Japanese, created by Japanese composer and music producer Akira Terao. While working in Shanghai in 2022, he found himself stuck in a 60-day Covid lockdown. During this time, he found a new passion in making stop-motion music videos using the vegetables bulk-delivered to his house. After the lockdown, he decided to quit his full-time job and combine all of his passions into creating his video channel.
If you're having a hard time memorising new words in Japanese, VOCABULA MUSIC JAPANESE has you covered! Each fun and creative video features just one thing, accompanied by an original song that sings the name in Japanese. With these music videos, you can memorise the word in just 1 min! Even if you are not studying Japanese, at the end of the video, you will end up learning a new word. Recent uploads include Japanese maple, Mandarin orange, and cabbage, and we're looking forward to what words come next!
What is your best way to learn Japanese online?
We hope this has been a useful post and a rewarding read. As you will have seen these resources are all online, free to use, and should be lots of fun to try out! It would be great to hear what your experiences with these resources if you have already checked them out or are using them right now. Finally, please let us know if there are any other Japanese resources that we've left out that you recommend and deserve to be in the list!