Going to a Yakiniku (Japanese BBQ) restaurant in Japan is a real social occasion. It's where you can grill meat, seafood and vegetables with your friends or family and unwind after a long day. Cooking for your partner makes for a great date night too, and some couples celebrate anniversaries at high-end Yakiniku restaurants.
Here in London, there are a couple of Japanese Yakiniku restaurants worth visiting. Hachi (which means 8 in Japanese) stands out for being one of the most authentic and affordable. They pride themselves on sourcing high quality meat from around the world and the finest cuts of Japanese Wagyu.
Hachi is in Soho on Brewer Street , so it's coveninently located after a day of shopping or before a theatre show. When you walk in, the interior is warm and well-lit and you'll spot the tables with the grills built into them. Also, if you've lived in Japan you may get that nostalgic feeling looking at the album jackets on the wall alcove towards the back.
If you're in a group, don't worry there are lots of space with the separated booths on the downstairs floor. More importantly, like in Japan there are fans and extractors above each table on both floors so you can enjoy your food without any smoke.
📍Brewer Street, Soho
💰Karubi £8.8, Harami £9.8, Karaage £6, Takoyaki £5, Hot stone Bibimbap £12
What BBQ meat did we order?
A sign of a good Japanese BBQ restaurant is the presentation of the meat prepared for grilling. Hachi do this well with ceramic plates, a pleasing bamboo leaf to contrast the colours, and cards to show what you are eating. The staff are very attentive and helpful too, and will set up your grill and let you know how long to cook your meat. So what did we eat?
First, we ordered Karubi which comes from the Korean word for ribs – Galbi. Japanese BBQ originates from Korean BBQ and this dish is one of the most popular at any Yakiniku restaurant. While there is a premium Jo-Karubi available, we went with the regular short ribs for this occasion. As expected the meat was rich in flavour and really did melt in your mouth with a lovely sweet umami taste.
Next, we ate the Harami. This meat was tender and with a texture close to lean meat but with the right amount of fat, giving it a deep flavour. For all dishes, you have a choice of dipping sauces and it was a lot of fun trying out the different combinations. The Sanchu Miso went very nicely with the Harami as did Hachi's own in-house Tare (dipping sauce)👌
Karaage, Takoyaki & Bibimbap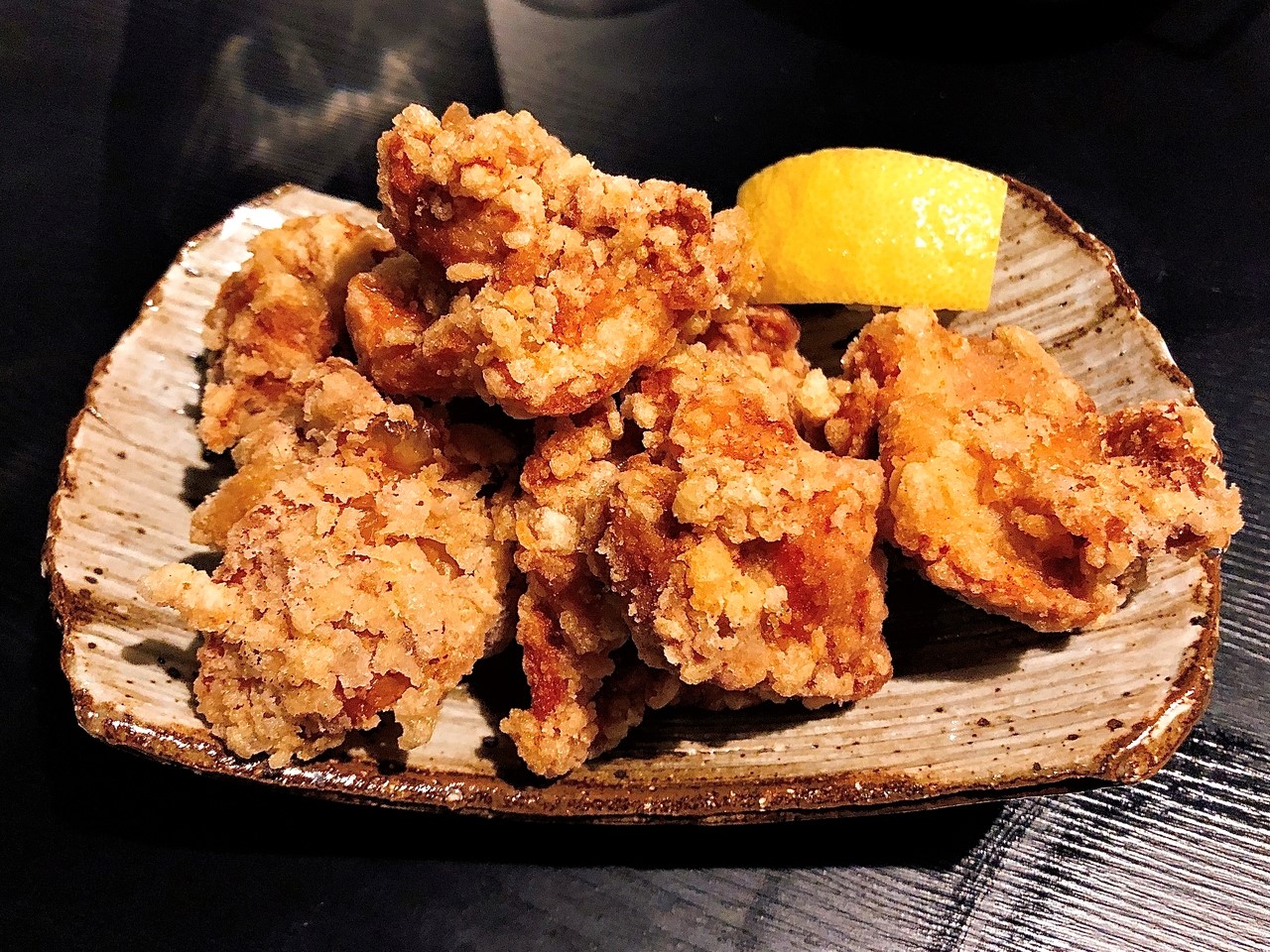 After we tried out some of the side dishes. For the Karaage Fried Chicken, this is cooked for you in the kitchen and comes with a slice of lemon. This was not only excellent presentation but tasted fantastic: crispy on the outside and tender inside. Possibly one of the best Karaage dishes we've eaten in London!
Takoyaki! This was a favourite of course with everyone in our group. I think the Octopus aspect does put first-timers off but once you've had one there is no turning back. If you haven't eaten it before, the octopus pieces are quite small and honestly you get more of a taste of the cooked batter and the savoury sauces drapped on top. We enjoyed the Takoyaki so much we immediately ordered another plate!
For me personally, Bibimbap absolutely has to be served in a hot stone bowl. Perhaps I've grew too used to this in Japan but it noticeable how many places in the UK do not offer Hot Stone Bibimbap. As a result I was very happy to see the option on the menu at Hachi. Also, everything comes prepared and then the staff mix it together for you on your table so it is ready for eating.
Hachi Japanese BBQ rating
Hachi is a Japanese-owned restaurant with Japanese chefs who provide an authentic Yakiniku experience. They import high-quality meat from the UK, Australia and Chile, and their Wagyu from Japan of course. However, we should mention they have good options for vegetarians and pescatarians too.
We'd like to give extra bonus points for the super knowledgeable staff who really know their dipping sauces and the best options on the menu. We'll definitely be back to try their Wagyu beef selection soon! Another thing to look out for are Hachi's lunch menus. On top of their Yakiniku-Don Lunch, Hachi also offers Kaki-Fry (Deep-Fried Breaded Oysters) and Sukiyaki (Hot Pot) Lunch sets. Plenty of choices as you can see for both lunch and dinner!
Have you eaten at Hachi? Please feel free to comment below about your experience. Also if you are looking for more Japanese restaurants across the capital, please check out our top 10 Japanese restaurants in London list.