Translated into English, Monohon means "the real thing" and many diners declare Monohon as one of their favourite ramen restaurants in London. Monohon Ramen is certainly worth visiting if you are a ramen lover, although we would recommend trying out their Abura Soba for a first visit.
What is Abura Soba?
In Japanese, Abura is the word for oil and soba usually would refer to soba buckwheat noodles. Here, however the noodles in question are actually wheat noodles and the same type used to make ramen. Why is this the case? Well the original name for ramen was Chuka Soba which can be translated as noodles from China. However ramen restaurant owners slowly changed the name of the dish from the 1960s. Despite this, Abura soba and yakisoba kept their "soba" ending.
The main difference between ramen and Abura soba is that you don't get a soup with Abura soba. In essence, it's a brothless bowl of wheat noodles served with an oil base. You then get toppings including a soft boiled egg that you mix together before eating. It is different from tsukemen where you have a dipping sauce for the noodles. Also it is usually cheaper in price than ramen. This makes it a favourite for university students in Japan and especially in Tokyo – home to Abura soba!
The Queue for Monohon Ramen
When it comes to Abura soba we'd say Monohon Ramen is a serious contender for one of the best bowls in London. Everyone knows it too! It is far from under the radar and you can expect a queue when you get to the restaurant. The location is between Old Street and Barbican stations so close to many offices and tech start-ups. For this reason you can be sure it's busy whether you go at lunch or in the evening for dinner.
The first time we went as a group of 5 friends on a Friday evening. On this occasion it even took over 35 minutes to get a table. Something to keep in mind is Monohon only have one or two big tables for groups and you can't make a reservation. Last Monday I returned by myself following an office day at the nearby White Collar Factory. While I could get a seat after a couple of minutes, it wasn't long before a line starting forming outside.
Restaurant Interior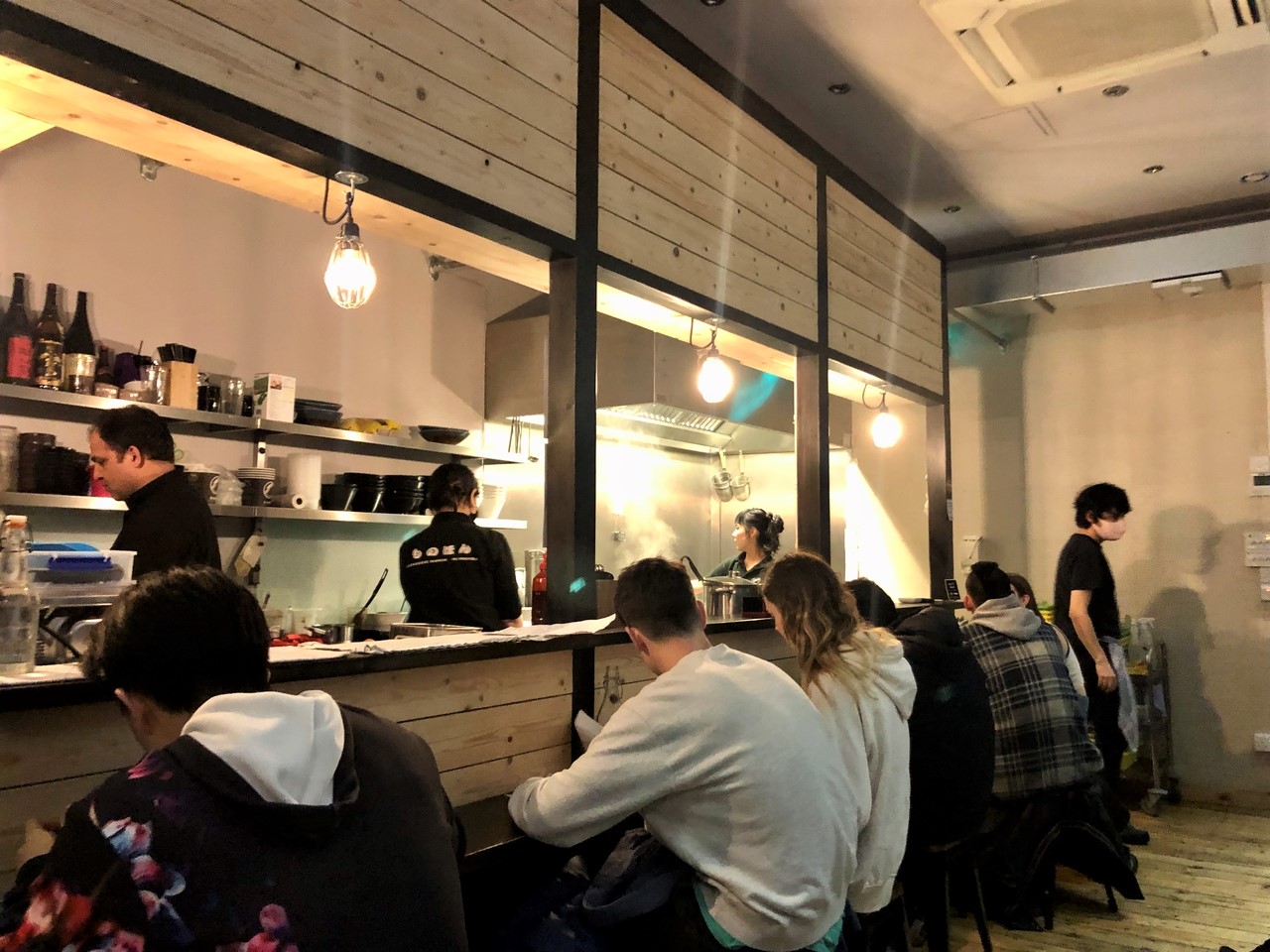 Like ramen restaurants in Japan, there is a long wooden counter in front of the kitchen. And as diners take their seats they can peer over the light wood side panel and see the chefs in action. The decor in the front room is minimal and aesthetically pleasing especially the cute overhead lightbulb cages. Along the wall, there are a couple of tables and another corner counter by the window with stools. If you're in the backroom, you'll see it's slightly darker with a red lantern hanging from the ceiling. I wonder if this is from the old days before they got a resaurant location?
Noticeably on both occasions, I saw happy Japanese customers eating inside. I take this as a quality indicator and great to see Japanese staff working at Monohon too. If you can read Japanese, you'll be pleased to see the menu is English on one side and in Nihongo on the other.
What did we order?
On our first visit, we ordered a selection of Abura soba, and Vegan Abura soba while I got the Shoyu Tonkotsu. The reason for this is to try one Tonkotsu ramen bowl at each major ramen shop in London. As you can see from the photo above their ramen is well presented with a generous chashu pork belly slice. When it came to the broth, the Shoyu Tonkotsu was okay but didn't have the creaminess I was expecting. It might be my imagination but it also seemed to have a slight tinge of curry-roux fragrance? Moving on to the noodles, these were high quality and you can choose the firmness when you order. I'd honestly say the Shoyu Tonkotsu was average for London although possibly it was due to the day we went.
Abura Soba
The Abura Soba however is impressive and worth coming back to try. Monohon create theirs with a sesame oil base and tons of toppings including a half-cooked egg. Before eating and taking a photo for the 'gram, you mix the toppings, egg and super thick noodles together. These delicious noodles are made in house and really pick up the fragrant sesame oil nicely. You also get small hits of cayenne pepper during your slurp journey. It's not overpowering but makes the dish more exciting.
Going on to the toppings, there is an abundance of them so make sure you have an appetite! Crunchy bamboo shoots, beansprouts and crisp green onions add colour and texture. Then there is dried seaweed and picked ginger plus a good amount of flavoured pork pieces too. Personally found the fried shallots the star of the topping show, but certainly many flavours and textures here to enjoy.
The Vegetarian Abura Soba also deserves a mention here. Monohon make theirs by replacing the pork with Nametake (marinated Japanese mushrooms). The sauce is also 100% vegetarian. The verdict from the non-meat eater of our group was their Abura soba was extremely flavourful and possibly one of the best vegetarian or vegan ramen bowls they have eaten in London!
Monohon Ramen rating
We would give Monohon a rating of 4.4 stars out of 5 stars. We really like how Monohon have fresh noodles made in-house and are always working on their soups. However honestly we would say their Abura Soba and Vegan Ramen are stronger bowls than their Shoyu Tonkotsu for us. Also, seeing as Abura Soba or Mazesoba is still uncommon in London we would definitely point you in the Abura Soba direction if you did want a recommendation. They have summer menus like Hiyashi Chuka and Ja Ja Men too which we are very much looking forward to trying.
Price wise, things are kept reasonable – the Shoyu Tonkotsu is £13 for a regular size bowl. Then on my Abura Soba visit, I ordered a Mugi tea (barley tea) to drink and together with the noodles this came to £17.60.
Finally we are 100% behind the concept of Monohon. Instead of being a "Japanese-inspired" restaurant, Monohon is whole-heartedly a Japanese restaurant. This really shows. They provides fantastic Omotenashi service. Even when it's super busy, the staff are patient and helpful when you order, the tables are kept clean, and a complimentary glass of water is available for everyone.
We hope you find this review helpful. If you are looking for more ramen restaurants in London, please check out our top 10 ramen restaurant guide.